Uxmal, Mexico :: November 9-16th, 2013
EMPOWER
Spirituality. Connection. Service. Philanthropy. Limitless love.
Key question: "How can I nourish my heart & soul — every single day?"
ENLIGHTEN
Beliefs. Limiting agreements. Perspectives. Internal dialogue. Your point of view.
Key question: "Do I have an aerial view of my life — or just a narrow perspective?"
Join me + Rev. Frankie Timmers for 7 days of deep clarity, inner peace + fierce self-love.
You'll learn focused tools to help keep a sense of Zen in your hectic life.
You'll gently illuminate the sneaky inner dialogue that's limiting your success in both your business + personal life.
You'll unwind your creaky muscles and quiet your feisty mind with delicious spa services.
You'll explore your current life direction and transform it with passion + purpose.
And you'll experience some of the most striking Mayan ruins + cenotes in the Yucatan peninsula.
Uxmal was a university of sacred spirituality and cosmic harmony whose information is stored in the stones ready for us to access and embody. Through powerful ceremonies and spiritual practices we'll connect with universal wisdom and truth residing within – beautifully reflected in the design and purpose of these ruins.
Highlights of Your Adventure:
Travel home with your passion renewed – committed to creating a love-based life for yourself
Become prepared to take positive action in your life with clarity and acceptance
Learn powerful ways to move beyond the old fear-based societal paradigms
Marvel at the most beautiful frescoes and architectural designs in the Yucatan peninsular
Participate in powerful ceremonies and practical spiritual practices to live your purpose and passion!
Seven lovely nights at the 5 star Lodge at Uxmal – located steps from the pyramids!
Create balance between the sky-earth, sun-moon, and masculine-feminine energies within you
Swim in the crystal clear sacred waters of Yucatan's cenotes (sinkholes)…ahhhh!
All meals, ceremonies, entrance fees, transport, tours and excursions on our itinerary are included!
Your Amazing Itinerary!
Day 1 Nov 10 – Arrival in Merida, Mx (-/-/d)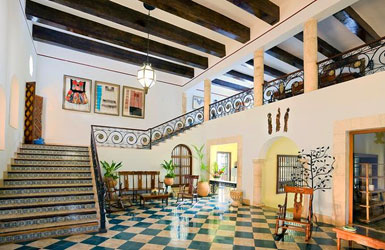 Today we arrive in the beautiful city of Merida in the Yucatan. From here we'll drive to our lovely hotel for the week, the 5 star – Lodge at Uxmal. The Lodge is just 30 meters from the entrance to Uxmal and archaeologists have unearthed several important finds in the gardens including the only example of a Mayan residential zone bordering a ceremonial center fount to date in the Yucatan.
From the balcony of the first villas, the view of the Pyramid of the Magician is spectacular and a constant reminder of the beauty of Uxmal. We'll gather up around 6:00pm to meet each other and have our dinner. While gathering together we will set our intent for the week and for the magic that will unfold as the Universe responds and gives us what we need to fulfill our intent. Then our intent becomes our inner guide on our journey deep into our Sacred Center.
(**Our hotel does provide complimentary airport shuttles from Merida.)
Day 2 Nov 11 – Uxmal (b/l/d)
After breakfast we will witness a native tree planting ceremony with a local H'men (shaman). What seeds will we be planting this week and for our own personal transformation in the coming year? As we experience the native tree planting ceremony we listen deeply, seeing the ceremony as a symbol for the planting of our intent in the soil of our own consciousness. In sacred ceremony we remember how as spiritual beings we are sacred: life is sacred and our hunger for deep clarity, inner peace + fierce self-love is a call to the sacred within.
After lunch we'll visit the beautiful sacred site of Uxmal – one of the most majestic of all the sites in the Yucatan. Incredibly well preserved – the Pyramid of the Magician has a special architecture rarely seen – rounded corners and the western staircase of the pyramid is situated so that it faces the setting sun on the summer solstice.
Uxmal means "thrice built," reflecting the underworld, middle world, and upper worlds of the human cosmology. The underworld represents the shadow aspects of ourselves that we have rejected and must retrieve, accept and honor in ourselves to be whole. The middle world embodies our day to day human lives lived from the perspective of the ego mind. And the upper world is Infinite Divine Consciousness as it manifests in and through us.
All of the sites we will be exploring are designed in the Puuc style (named for hills of this region) and if you've been to other Mayan sites you will find these set of ruins particularly artistic and graceful. Since our hotel is right by the entrance of the ruins we can go back at night to see the light and sound show if we like or just be in the energy of the place. We'll have a ceremony at the site today to celebrate the shift of light for the new year and for the blessing and uniqueness of light that each of us embodies.
Day 3 Nov 12 – Cuzama Centotes (b/l/d)
Today we will experience several cenotes, or sinkholes in the limestone ground that supplied fresh water for the natives (considering the Yucatan has no rivers). We'll have a lovely ceremony at one of the cenotes and enjoy the cool clear waters. When we visit the cenotes, we challenge ourselves to dive deeper. This requires preparation. Getting clearer about our intent, noticing what lies in the way, feeling our longing for living from our integrity, authenticity, inner knowing and Sacred Center – and having the clarity and wisdom to know what we need to let go of. And then, we dive in! In visiting the Hacienda Sotuta de Peon this afternoon, we continue to allow our personal inner process to unfold.
When we visit the Hacienda Sotuta de Peon, we will literally travel back in time, transported on wooden platforms called "trucks" which are pulled by "mules" over Cauville rails, as were originally used by the workers. Here, you'll witness the step-by-step process of the transformation of the Henequen (or Green Gold as it was known throughout the region), from plant to fiber and from fiber to finished product. We'll have lunch here and enjoy the culture – it's quite fascinating!
Day 4 Nov 13 – Kabah (b/l/d)
Today we visit some amazing and ancient ruins along the Puuc Route to the smaller sites of Kabah and Loltun. Kabah ("Strong Hand") is actually connected by a walkway to the south of Uxmal. The most famous structure at Kabah is the "Palace of the Masks," the facade decorated with hundreds of stone masks of the long-nosed rain god Chaac; it is also known as the Codz Poop, meaning "Rolled Matting," from the pattern of the stone mosaics. Beautiful!
While here we'll connect with the history of these ruins and we tune in to the healing and transcendence that's been unfolding here silently for centuries. These stones hold ancient sacred wisdom which we'll tap into. As we access the wisdom within and without – we will let go of the old and what no longer serves us. This will bring us deeper into answering the question: How can I create a life that nourishes my heart & soul — every single day?
FYI: After lunch there will be free time and if you like you can go back to Uxmal on your own, spa-out or simply rest (you'll need to purchase an entrance ticket for approximately 166 pesos/$15.00 USD).
Day 5 – Nov 14 – Integration (b/l/d)


Today you have the opportunity to rest and relax and most importantly – integrate! Fortunately The Lodge at Uxmal features a Natural Spa with a distinctive Spa Services Menu that offers just the right treat for every personal taste. This is the perfect way to rest, relax and nourish your mind, body and soul. Ahhhhhh…..
Day 6 – Nov 15 – Cacao Museum (b/l/d)
Mayans consider chocolate is the food of the Gods (so wise of them!) and this morning we're going to learn it's importance. We'll explore beautiful gardens with orchards, and have a traditional Mayan drink prepared with organic chocolate and spices. So, besides enjoying these literal foods of the Gods, we'll learn today how to deeply nourish ourselves as we prepare for our return home.
Sacred journeys, retreats, workshops and so on can be really wonderful, but if we don't have a clear path to embody the tools we've learned and take them home with us, we won't be truly fed and nourished. Together we'll make sure that the transformation experienced here becomes a deep and solid part of your nature before you go home! In the afternoon you have free time to enjoy, have a spa treatment or rest.
Day 7 – Nov 16 – Oxkintok (b/l/d)
Oxkintok ("Three Flint Suns" or "Three Day Flint") was once an important ceremonial center in the Puuc region. Hieroglyphic inscriptions show some of the oldest dates known in Yucatan. The oldest and most well known building of Oxkintok is the Tzat Tun Tzat, Mayan for labyrinth or place in which one may be lost. Built in three levels on top of each other, its interior forms a maze of long, narrow rooms, connected by small gates and narrow stairs.
Today we integrate the experiences of our journey on three levels and marry them. We'll have the opportunity to explore this interesting site and have a ceremony to celebrate our passage out of the underworld of our own minds in the light of the sun.
Realizing that our shadow (subconscious), our personality (conscious) and our Spirit (super-conscious) are one and totally accessible to all parts of our being is so powerful. When we stand firm in our Sacred Center, deep integrity and purpose – we embody the awareness of our totality and wholeness. There is nothing to hide, reject or deny: We are whole, perfect and complete as we are. Having manifested our initial intent this week we'll be celebrating tonight! In the evening we depart from the hotel down a path leading to a special Mayan Moon Night dinner with Mayan dancers and traditional music!
Day 8 – Nov 17 – Home (b/-/-)
Today we depart for home, rested, and nourished from our time together. Ready to bring our light forth, we take our new awareness and consciousness home with us.
What's Included:
Seven nights at the 5 star Lodge at Uxmal
Twenty-one delicious meals as indicated on the itinerary!
Daily group sharing circles
All transformational teachings, ceremonies
H'men ceremony and a native tree planting
Lunch at the historic Hacienda Sotuta de Peon
Medicinal Herbs and healing application conference with native Mayan people
Visit to the Cacao Museum
Mayan Legends Moon Night
Admission to Uxmal, Kabah & Oxkintok ruins
Visit to the Cuzama Cenote
Transportation to and from the Merida airport
Medical insurance for the duration of the journey
What's Not-Included:
Personal items such as phone calls, laundering services and souvenir shopping!
Your round-trip air flight to Merida, Mexico is not-included
Tips for the hotel maids are not-included (we suggest leaving ~$1 USD per day per person in your room).
Your Fabulous Facilitators:
Sheri's Story:
My personal adventure began in 1998 when I was going through a challenging time in my life. I realized on some level that I had never been truly happy. Although I changed: husbands (twice), cities (five moves), podiatric practices (three different offices) and friends (should we go there?), I still had no real joy in my life.
A leap of faith was the last resort – I sold my practice, boy-friend (only kidding), and home – and closed the surgical residency program I was director of (yes, that was a pretty big deal and yes, the medical community thought I was nuts).
After leaving behind the world of medicine, I spent nearly 8 years on a transformative spiritual quest. I rolled across the western US in my car, and began to explore the landscape of my inner world. It was a rocky, unforgiving place. (Sometimes, it still is.) But over time, I've gained skills + tools to shift my own reality — from the inside out.
My personal exploration and apprenticeship time with don Miguel Ruiz inspired me to write: The Complete Idiot's Guide to Toltec Wisdom, Banish Mind Spam! and to create the How to Forgive eCourse, a heart-opening online program.
This journey is an invitation, from me to you — an opportunity to explore the quality of what you put forth in the world. The lightness + luminosity of your own audacious projection of love + creativity. And, if you're looking for a chance to escape the ordinary + step into a life of rare adventure — this is the program for you.
Rev Frankie Timmers' Story:
I was born and raised in The Netherlands in a family of nine children. Having been educated in The Netherlands, France and the United States, I speak Dutch, French, German and English and have been blessed to live and travel to & in many countries.
Longing to be a veterinarian, my family was not able to pay for my education, so I settled for becoming a veterinarian assistant. This was at a time when I loved animals a whole lot more than people! It felt safer to be around them because those relationships required nothing of me, except my love.
This all changed, when I found the perfect & right spiritual path for me – The Science of Mind® teachings founded by Dr. Ernest Holmes. I so loved the studies that I naturally evolved into the ministry. I have been a spiritual director for the Centers for Spiritual Living for almost 25 years now – the last 19 years in beautiful, historic Morristown, New Jersey.
The last 10 years I've had a great passion for Sufism as well and I practice the Sufi Meditation of the Heart. I am also part of a group that does dreamwork and we practice the zikr (mantra). The path of Science of Mind® deeply opened my mind, and the Sufi path deeply opened my heart – both completely transforming my life.
Two of my most amazing pilgrimages were to Turkey and Uzbekistan. In Turkey I traveled with a group of Mevlevi Sufis – meeting Sufi sheiks and visiting ancient Sufi sacred sites (one of them was the tomb of Mevlana Jellaludin Rumi, the 13th century mystic, in Konya)! In Uzbekistan, the most sacred site for me was the tomb of 14th century Sufi sheikh Baha-ud-Din Naqshband (founder of the Naqshbandi Sufis order).
I am a lover of life AND a lover of God/Spirit/Unconditional Love. I celebrate who we TRULY are – Spirit in expression. And I love to midwife people's essential beingness into full expression watching their lives blossom into joy and delight!
Your Investment:
Double Occupancy: $2995 USD
Single Occupancy: $3595 USD
**This trip includes: 7 nights double occupancy in the 5 star Lodge at Uxmal, all meals, yoga teachings, admission to Uxmal, Kabah & Oxkintok ruins, visit to the Cuzama Cenotes, Shaman ceremony and native tree planting, lunch at the historic Hacienda Sotuta de Peon, a Medicinal Herbs and healing application conference with native Mayan people, a visit to the Cacao Museum, a Mayan Legends Moon Night and so much more!
A deposit of $500 USD: August 1st, 2013. Final payment is due: September 1st, 2013. **This is high season and we have to have everyone registered early!
Place your deposit NOW:
[wpsc_products category_url_name='uxmal-womens-retreat']
–> FINISHED? CLICK HERE TO CHECKOUT NOW! <–
Any cancellation made in writing between: August 1st, 2012 and September 1st, 2013 will result in a cancellation fee of $500 USD. Any cancellation made between: September 1st, 2013 and October 1st, 2013 will result in a cancellation fee of 50% of the trip pricing. Any cancellation made between: October 1st, 2013 and the trip departure will result in a total loss of the trip funds. Any cancellation made: after the trip departs will result in total loss of trip funds. We reserve the right to cancel the trip if it is not meeting the trip minimum. Trip cancellation insurance is always recommended when making travel plans. You can use our suggested Travel Guard Insurance online and choose from several policy options.