Are you living your best life … or someone else's?
Let's face it – everyone wants to live a good life right? We want the best for ourselves and our family – but often as we travel the path of life we give up our dreams and desires in favor of what we believe others want for us – rather than pursuing what we really have in our heart.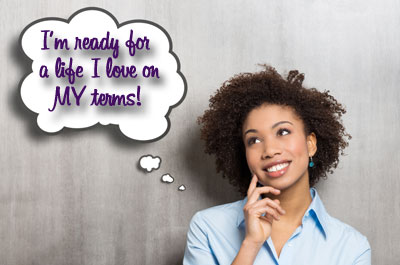 In those rare moments when we're quiet – the realization may come to us that something is kind of "off" in our lives – something's not quite right. But for the majority of us, we're so busy with life we hardly notice that low level feeling in our body that's trying to tell us that something isn't the way it should be.
It's easy to get comfortable living life as we know it because it's certain – we know exactly what's expected of us, the direction life is going, what we are going to feel or not feel. Creating our most awesome life can be scary because we're taking a risk – not knowing what the results of our actions will be. We have no idea if our family or partner will agree with the changes we want to make, and we have no idea if we'll lose their love and approval.
So if you ever wake up wondering whose life you are living, feel like you're lacking clarity, find yourself short-tempered, frustrated or unhappy, wish your relationships were more supportive and loving and/or crave freedom from your own life and mind – you are in the right place!
In this two day workshop, we're going to explore what it means to create an amazing life and identify what elements are preventing us from living our best life. And not just our best life – I'm talking about the most audacious life!
This workshop's for you if you want to:
Deepen your understanding about what you want in life.
Define what you desire and create a plan to get it
Learn how to be a happier person.
Understand how to not take the people in your life personally.
Empower yourself to make the changes you know need to happen.
Take positive action in life – regardless of anxiety or fear.
No longer feel victimized by the people in your life.
Deal with people openly, without taking their actions and words to heart.
Reclaim your self-esteem and greater life purpose.
No longer fear confrontation, or be a doormat for others.
Learn specific tools to help you live courageously, boldly, and with your head held high.
Clearly identify your limiting beliefs, their origin and true purpose – empowering you to make healthier life choices.
If you're really to get real with yourself and join a small group of 15 amazing gals (sorry guys) who are ready to make 2014 their best year yet – register below!
Location:
The city of Gretna is the parish seat of Jefferson Parish, Louisiana, USA. Gretna is on the west bank of the Mississippi River, just east and across the river from uptown New Orleans. There are hotels nearby if you are flying in from out of town. You would need to fly into New Orleans and rent a car.
Workshop hours + Tuition:
Saturday from 9-5pm with a lunch break included. Sunday 9-4pm with a lunch break included.
$350 USD including two light lunches, refreshments, and snacks.
Register:
Register NOW with our secure online store. **Please make sure your tuition is paid by February 15th!
When you hit the white "Add to Cart" button, your selection will go into the shopping cart.
When you are finished, then click the "Checkout Now" link below to complete the transaction.
[wpsc_products category_url_name='creating-your-dream-life']
–> FINISHED? CLICK HERE TO CHECKOUT NOW! <–
If you don't wish to register online or are having issues, call 727.421.0849.